ABOUT KAOS
KAOS is the leader in Australian radio promotion.
KAOS is proud to have represented 2 of the TOP TEN in the END OF DECADE Australian singles. Those being:
# 1 GOTYE Somebody I used To Know
# 9 SHEPPARD Geronimo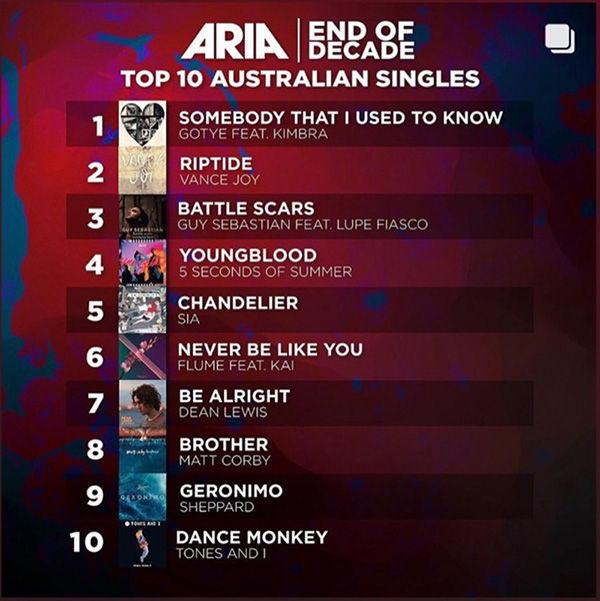 KAOS clientele features the highest calibre of artists – SHEPPARD, John Butler Trio, LIME CORDIALE, The Whitlams, Nick De La Hoyde,  Joel Adams, Teenage Dads to name a few.
Australian
e.g. Lime Cordiale, The Whitlams, Joel Adams, Nick De La Hoyde, for King & Country, Beks, Teenage Dads.
International
Helix Records
Russell relies on a personal approach and has weekly / fortnightly meetings in Sydney and makes monthly trips to Melbourne and Brisbane for
one on one presentations. This "in the flesh" approach is his trademark, as music programmers are inundated with emails.
PLAYMPE December 2015 enewsletter profile on Russell and KAOS sent to 26,000 record company people and radio stations. Read more here
KAOS track record speaks for itself. A few examples:
JOHN BUTLER TRIO – a client since 2001, 1.5 million albums sold and many ARIAS. #1 Most played song with "One Way Road" and many #1
albums – John is the "godfather" of independent music as his success at radio had paved the way for independent artists growth here.
GOTYE – #1 single and #1 Most played song plus 3 Grammy's with "Somebody I Used To Know. Triple Platinum album with Making Mirrors.
SHEPPARD #1 single with Geronimo # weeks at #1 the record for most weeks by an Australian independent artist. 6 x times platinum and 7 weeks
#1 Most Played song in the country. Geronimo went on to get 38 awards in 24 countries, including platinum in the USA – over 1,000,000 sold.
SOME PAST FIRST SUCCESSES at EMI:
1978 Blondie worldwide with "In The Flesh" her first chart success ever.
1979 The Motels "Total Control". Martha Davis is now "family."
1979 Australian Crawl with "Beautiful People" and 1981 achieved #1 with "Reckless."
1981 Moving Pictures with "What About Me", 6 weeks at #1.
KAOS more recently:
2001 John Butler Trio with "Betterman" – 1st commercial radio song. #1 album.
2003 The Waifs with "London Still" #3 JJJ Hot 100. Gold album.
2004 John Butler Trio "Sunrise Over Sea" #1 album.
2004 Joel Turner "These Kids" #1 song.
2005 Ben Lee "Catch My Disease" #1 Most played song. Double platinum. Multiple ARIA winner.
2005 Joel Turner "These Kids" #1 song.
2008 Sneaky Sound System "I Love it" multiple ARIA winner.
2008 The Presets "My People" multiple ARIA winner.
2009 LadyHawke "Paris Is Burning" multiple ARIA winner.
2010 John Butler Trio "Grand National" #1 album.
2011 Gotye "Somebody I Used To Know" #1 song + multiple ARIA winner. #1 album "Making Mirrors." Triple platinum album.
2012 Sheppard "Let Me Down Easy" # 10 song + platinum EP.
2012 Missy Higgins "The Ol Razzle Dazzle" #1 album.
2013 Sheppard "Geronimo" #1 song and ARIA winner 6 times platinum
2013 Awolnation "Sail" double platinum song.
2014 "iTCH" Another Man" #10 song + double platinum.
2014 Sheppard win ARIA AWARD for Best Group
2017 Sheppard "Coming Home" #2 iTunes
2018 Sheppard #1 ARIA Album for "WATCHING THE SKY "
2018 Sheppard PLATINUM for Coming Home – 25,000,000 Spotify Steams.
#1 iTunes and # 1 Shazam THE NETHERLANDS
2018 JOHN BUTLER TRIO #1 ARIA Album for "HOME"
2020 LIME CORDIALE #1 ARIA Album 14 Steps To A Better You"
————————————————————-
PLAYMPE Panel October 21, 2020
Breaking and Discovering Artists in Australia and New Zealand

NOVEMBER 25, 2020
LIME CORDIALE WIN BREAKTHROUGH ARTIST ARIA AWARD